Rain and pest control. On paper, it sounds like a recipe for disaster. You may have genuine doubts as to whether the treatment will work, raising questions like:
"Won't the rain wash away the pesticide?
"If the treatment fails, will I have to pay for another round of treatment" And,
"Should I reschedule for another day?"
Fortunately, quite often the opposite is true. Under the right circumstances, pest control can still be applied and start working before, during, and after rainfall. In fact, it can even enhance the treatment's effectiveness.
Here are 5 reasons to think twice before you cancel pest control treatment due to rain.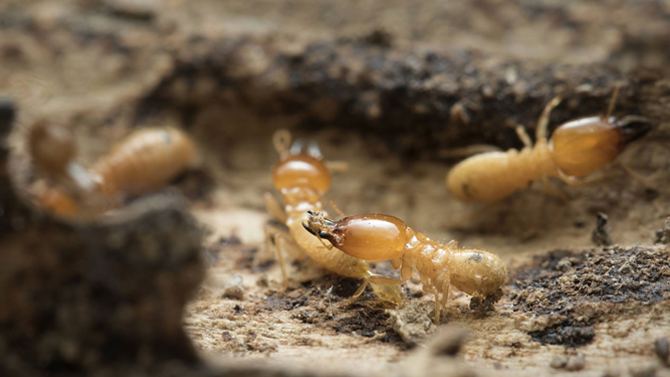 1. Liquid pesticide takes less than 20 minutes to dry
When applied to a dry external surface, liquid pesticide will adhere to the surface and dries on impact or within 20 minutes in some cases.
How? Because pest chemicals are specially formulated with bonding agents so that they stick to any surface they're sprayed on. As a result, the pest chemical forms an insoluble barrier, largely unaffected by rain.
Although, in saying this, if heavy rain is on the horizon for the next few days after treatment; reschedule to stay on the safe side.
2. Most homes are designed to keep light rain off external walls
Most rain that falls onto your roof will travel down the eaves and gutters before it gets released through the outlets on the ground.
So, even if it rains on the day of your appointment, there's a good chance the rain – and the stormwater runoff – won't touch the external walls. Thus, the chemical treatment can be applied to the dry walls.
There is an exception to this rule. If the rain is heavy enough, and the wind is blowing rain against the property, then the treatment won't bind to the wet surface. Therefore, your technician may reschedule the pest control until rain subsides.
3. Internal areas (and some external) can still be treated
If you have a pest problem indoors – i.e. spiders, cockroaches, Silverfish, flies, live termites, no problem!
Also, some external pests can still be treated outdoors, including pests like bees and wasp nests, spiders (plus their cobwebs), and more. Your licensed pest technician will co-ordinate his method of treatment to outdoor undercover areas such as the front porch, patios, pergolas, and carports, etc.
4. Rain makes it easier to apply direct treatment
All insects rely on water to survive. But too much can potentially destroy their nest and colony. For this reason, when the rain comes down, pests like termites and ants will venture out to escape the moisture from their nests.
This is great news for you and the pest expert. Why? Because they can apply direct treatment to the live insects, and put in place control measures to get rid of the entire nest.
Furthermore, specially formulated granular pellets actually need water to active. So, when the rain makes contact with the pellets, the insecticide can penetrate the soil and destroy any nearby insects.
Whether hail, shine, or rain, pest control from All Bugs can deliver winning results for you. Book an appointment today.