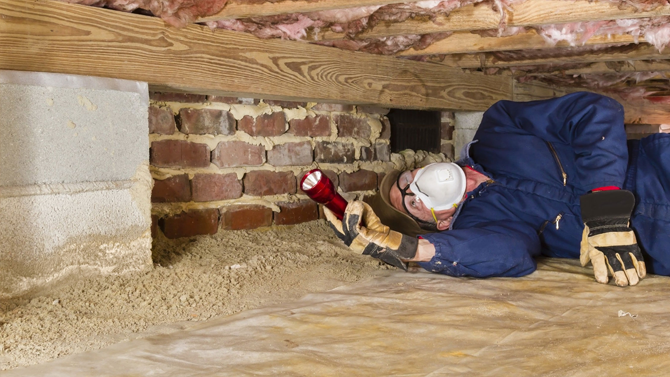 When Was the Last Time You Had an Annual Termite Inspection in Ascot?
Not sure? You could be at-risk of a major termite infestation.
If left undetected, termites can invade the premise then feed on vital timber products and structural elements. From support posts to hardwood flooring, handrails and outdoor decking… almost anything is fair game to these hungry pests. Termites can also set up colonies very quickly and spread like wildfire, which makes early detection all the more important.
An annual termite inspection from the Ascot team could save you a fortune on costly repairs. Or if you're running a business, help you avoid paying a massive fine.
We Do Residential, Strata and Commercial Termite Inspections
Our team of highly skilled technicians use their local knowledge and experience to identify signs of termite activity. We proudly service the Ascot community and respond quickly to all requests for annual termite inspections.
Without disrupting termite activity, our search efforts cover the entire premise inside and out.
The key areas we search are:
Around the perimeter of the property
Between the interior walls
Underneath the subfloor
In the ceiling
Near drainage pipes
Garden areas
All Bugs uses the latest technology to take the guesswork out of the entire process. We use thermal imaging cameras to differentiate between different levels of heat energy. When termites group together and form colonies, the level of heat they generate shows up on the camera and guides us towards the termite activity – it's that easy
Inspection Report
An annual termite inspection report is provided after the assessment has been completed. Most termite reports are submitted to you within 24 hours of the inspection taking place. In simple, easy to understand terms you get a total breakdown on the condition of the Ascot property, including:
Risk of termite infestation
Condition of timber products
Extent of property damage caused by termites
Possible entry points
Recommended treatments for your specific circumstances
Termite Treatments
All Bugs are fully licensed to carry out physical and chemical termite treatment. We also have Government-issued Pest Control Operator's licenses.
Evidence of these qualifications can be supplied to you upon request.
Chemical Treatment
Our chemical barriers are discreet and provide long-lasting relief from termites. This treatment is only deadly to termites and kills the existing colony while also stopping termites from the outside getting in.
All pesticides are registered for use by the Australian Pesticides and Veterinary Medicines Authority (APVMA).
Most chemical treatments are safe to use around pets, wildlife, children and pregnant mothers.* If anyone on the premise is sensitive to pesticides, your technician can offer alternative treatment or advise you on how to avoid harmful exposure.
Baiting Stations
In some cases, a termite baiting program is an effective treatment.
The bait is placed in targeted areas, where the bait is eventually taken to the termite's 'home' and kills the entire colony. Our team perform a follow-up appointment to track its progress and ensure the treatment is working efficiently.
Why Choose All Bugs
Over 30 years of industry experience
Fully licensed, insured and certified
Residential and commercial
Cost-effective treatment
Aftercare support
Book Your Termite Inspection
Don't let a potential termite infestation go unnoticed for another day. Call (07) 3324 0111 or send your online enquiry to book an annual termite inspection in Ascot.
All Bugs is available Monday to Saturday (7am-7pm) for all inspections.
We accept cash, cheque, MasterCard, Visa and money orders for payment.
*For children with allergies, crawling toddlers, and pregnant women in their first trimester, we recommend avoiding exposure to pesticides.