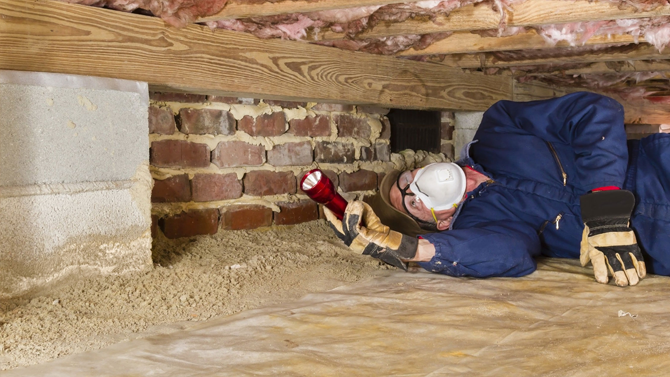 Termites, also known as white ants, are hard to detect with the naked eye alone. That's why the CSIRO recommends getting an annual termite inspection in Beaudesert at least once a year, or more if possible.
By detecting termites early, you avoid the stress of dealing with a major infestation. And you save a fortune on hiring builders to fix pest-related damage. So you preserve the value of your beloved property investment too.
If you have found evidence of live termite activity, do not panic. Any attempt to solve the problem yourself may cause the termites to disperse and relocate – making the situation worse.
For safe and timely detection of timber pests, request a FREE quote on a termite inspection in Beaudesert today. Simply call All Bugs on (07) 3324 0111. Or enquire online now to request a friendly call-back from us.
Termite Inspection Service
On a suitable day and time, All Bugs will arrive at your home or business to carry out a thorough inspection of the building. Based on the size and layout of the property your termite inspection will only take 1-2 hours to complete.
All Bugs will examine your property by searching the main living areas which include with cabinets, crawlspaces, sub-floors and roof voids, outdoor space, wet areas (i.e. bathrooms, laundry and kitchen), and anywhere else termites pose a risk.
To detect live termites we use the Termatrac® T3i. This device allows us to detect termite movement – and confirm termite kills – without the need to drill holes into the wall. So your property is left untouched. And there is no risk of causing the termites to panic and relocate.
Inspection Report and Treatment
Once the termite inspection in Beaudesert is complete, you will receive a termite inspection report via email within 24-hours.
The same person who carried out the inspection will take you through the results. And, if necessary, they will recommend the best treatment plan to get rid of the current pest problem. And to protect your home or business from termites for the long-term.
Our termite treatment plans are free of chemicals that are toxic to humans, pets and other wildlife. So they are safe to use in any place inside or outside the premise. Plus, they are placed in discreet areas to keep them out of sight, out of mind.
For total peace of mind your termite treatment is covered by a 1 year warranty. That means if you're not satisfied with the results, we'll come back free of charge during the warranty period to address the issue until you're happy.
Book Your Termite Inspection Today
It costs you absolutely nothing to get a FREE quote for a termite inspection.
All you have to do is contact All Bugs on (07) 3324 0111. Or enquire online now to receive a fast and friendly call-back.
Your friendly termite inspection expert in Beaudesert looks forward to your enquiry.