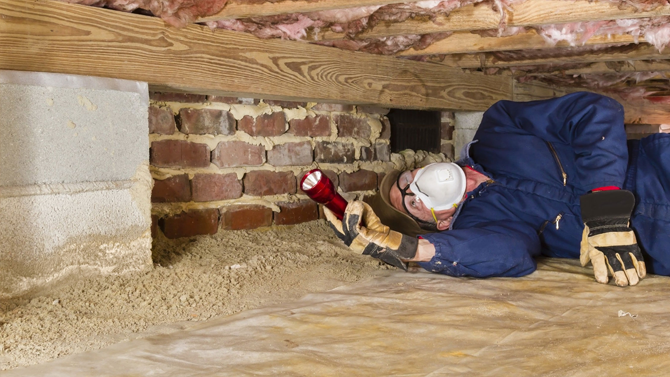 Annual Termite Inspections for Beenleigh
Don't Let Termites Ruin Your Life – Get Fast Relief with Early Detection
Did you know one in four homes are attacked by termites at least once in their lifetime?
An annual termite inspection in Beenleigh can provide early detection of timber pests. By identifying termite activity early, you can save your home or business from structural damage and avoid paying for major repairs.
The CSIRO recommends a termite inspection at least on an annual basis and more frequently for suburbs with a higher risk of infestation.
What We Do
All Bugs use their local knowledge and experience to carry out an in-depth inspection of your building.
Fully-equipped with the latest termite inspection tools, the team discreetly inspects every detail of your building. From thermal image cameras to moisture meters and optical borescopes, these tools let us access hard-to-reach places and won't disturb the termites or cause them to relocate.
All Bugs inspect the following inside and outside areas:
Outdoor space
Retaining walls
Fences
Roof cavities
Sub floor areas
Interior walls
Around the foundation
Rest assured your annual termite inspection in Beenleigh is carried out in compliance with AS4349.3 – 2010 Inspection of Buildings – Timber Pest Inspections
Inspection Report
A full termite inspection report is provided to you at the end of each inspection. This report advises you on the condition of the property and the following information:
Signs of timber damage
Areas at-risk of infestation
Areas currently infested
Evidence of previous infestation
Species of timber pest
If termites have been found, All Bugs will recommend suitable treatment options and provide an obligation-free quote.
Termite Treatment
All Bugs provide a range of treatment options to control the infestation and keep your property safe from another attack.
Depending on your unique circumstances, we may use a combination of baiting stations, chemical barriers and reticulation systems. Each treatment option is discreet, eco-friendly, and will not expose your pets, children or family to potential harm.
Throughout the process, All Bugs will monitor the treatment until successful and offer preventative tips to help you avoid re-infestation.
Why Choose All Bugs
Fully licensed and insured
Respectful to your home life and business
Comprehensive termite inspection report
Flexible payment options
Warranty for peace of mind
Detect Timber Pests Early
Did you know your home insurance won't cover you for termite-related damage? Avoid the risk and get early detection with a comprehensive termite inspection.
Call us on (07) 3324 0111 or send your enquiry to book an inspection in Beenleigh.