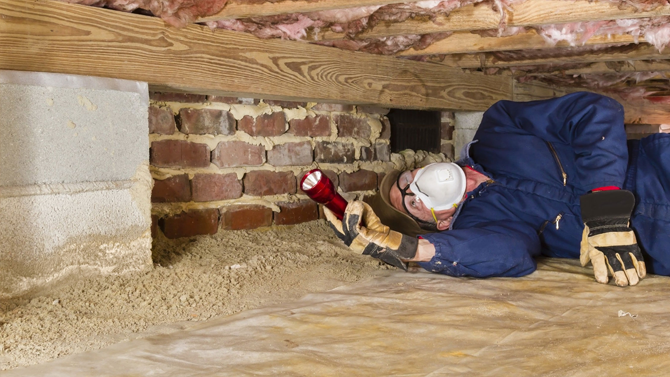 Annual Termite Inspections Clayfield
Protect Your Livelihood From Danger With an Annual Termite Inspection in Clayfield
Due to the high density of housing and commercial properties in the region, Clayfield is a high-risk area for termite activity. However, termites are discreet so you may never notice the signs of damage until it's too late…
Early detection is the key to keeping your property safe from costly damage. To avoid emotional distress and enjoy total peace of mind, get in touch with All Bugs for an annual termite inspection in Clayfield.
From start to end, the All Bugs team of friendly experts will treat your property with respect and ensure not to disturb the termites. Most inspections take less than 2 hours and you receive a detailed inspection report with photos via email within 24 hours. From there, you are offered a safe and non-toxic treatment plan to suit your needs.
All pest treatments come with a warranty so you are guaranteed long-term relief from termites.
Fully licensed and insured
Fast on-time arrival
Minimal fuss to your home life and business
Will not disturb the termites
Safe and non-toxic treatment plans
Flexible payment options
FREE quotes
Contact All Bugs today for a FREE quote on annual termite inspections in Clayfield. Simply call 3324 0111 to arrange a suitable day and time.
Overdue for a Termite Inspection?
If so, then you could be at-risk of a major infestation and not even realise it! Luckily, All Bugs is available 6 days a week to carry out termite inspections for any kind of home or commercial property.
On a suitable day and time, the team will come to your property and take the time to ask you questions about the infestation. From there, they will conduct a visual inspection both inside and outside the premise to look for:
Signs of timber damage
Evidence of termite activity (i.e. shell casings, mud tunnels and live termites)
Possible entry points in the building
Any leaking pipes or plumbing facilities
Signs of previous termite baiting stations or chemical barriers
Hard-to-reach places that need further inspection
By using the latest termite inspection tools – such as moisture meters, optical borescopes, electronic odour detectors and thermal image cameras – you can relax knowing the termites won't be disturbed and the report will be 100% accurate.
Termite Treatment
Based on the results of the inspection you will be recommended a custom treatment plan to suit your needs. Rest assured each form of treatment is only toxic to termites and not harmful to humans, pets or wildlife.
Below are the most common forms of treatment we offer:
Termite Baiting Stations – A simple and effective way to control termites that currently reside in the property. Here the bait is placed in targeted places around the premise. When the worker termites consume the bait, they return to the nest where the toxic spreads to the other termites and eventually kills the whole colony.
Chemical Termite Barrier – Stops termites that are outside of the property from eating the timber and getting inside. The liquid is made up of termiticide chemical compounds and sprayed around the perimeter to form a sturdy barrier. With a life expectancy of up to 5 years the treatment provides lasting relief from termites.
Reticulation System – A more advanced yet costly form of treatment that involves installing a network of pipes beneath the surface. When it detects termites the pipes release a termiticide chemical to the surrounding soil. This treatment has a long life expectancy of up to 50 years and longer.
Get a FREE Quote
Don't wait for termites to cause costly damage to your home or business. Get long-term relief from termite for good with help from All Bugs.
For a FREE quote on annual termite inspections in Clayfield, call (07) 3324 0111 or send your online enquiry. Our friendly team will arrange a suitable day and time for your appointment.