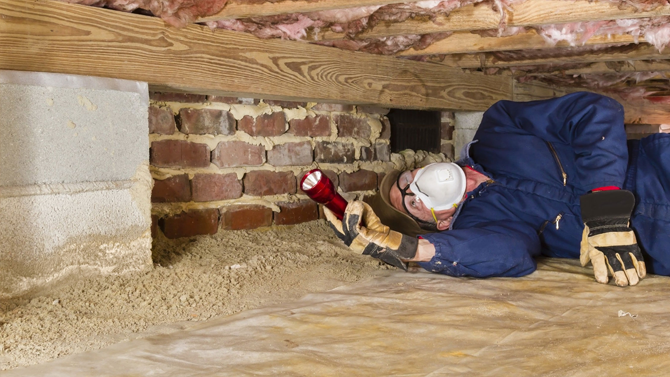 Suspect you have termites? Don't remember the last time you had an annual termite inspection? Coomera is a high-risk suburb for wood-destroying pests. To avoid costly repairs and emotional stress, it's vital that your premise is inspected by a licensed expert at least once a year.
Discover how All Bugs can make your property a pest-free zone for good.
How Do Termites Enter?
Termites love to play hide-and-seek. And each species has their own 'play style.' Drywood termites typically enter the premise by crawling through a crevice in the wood of the building. While subterranean termites enter at ground level or below, or build tunnels to enter at several feet below ground level. Once inside, both species will hide and build nests in the walls, crawl spaces, drain pipes, and other inaccessible areas within the building.
Because of their discreet nature you cannot rely on sight alone to spot the early signs of an infestation. Typically, only after the damage is done, you'll notice signs of a serious problem – such as hollow sounding timber, sagging floors, hard-to-open doors and windows, mud tunnels, tree nests, and faecal matter.
That's why the CSIRO recommends having a certified pest controller perform an annual termite inspection – across Coomera and the surrounding suburbs – in your home, business, or local government building.
Termite Inspection – What to Expect
On a suitable day and time, an All Bugs specialist will perform a thorough examination of the premise. They will use state-of-the-art inspection tools, such as thermal image cameras and the Termatrac T3i sensor, in order to detect, locate, and confirm the presence of termites. This is achieved without having to penetrate or disturb the walls, so there's no risk of damaging the property or causing the termites to panic and relocate.
After your annual termite inspection in Coomera, you will get a detailed yet easy to follow report and photographs – in accordance with Australian Standard AS 3660.2-2000 – that tells you every single thing you need to know about the condition of your property.
If termites are found, we will propose a treatment plan designed to get rid of the infestation, and protect the premise from termites for the long-term.
Proudly Serving Coomera
All Bugs, for over 40 years, has been proudly serving Coomera and the surrounding Gold Coast region. As a family owned and operated business, we take enormous pride in our ability to provide outstanding service, eco-friendly solutions, and long-term results that bring you total peace of mind.
No matter where you're based in Coomera, our local experts will arrive on time and get the job done right the first time, with zero-fuss to your day-to-day activities. Plus, our focus on taking an eco-friendly approach means that you, your family, and your pets can breathe easily.
Protect Yourself From Termites
Don't wait to see the visual signs of infestation before you act. Take preventative action NOW to avoid emotional and financial stress later.
For a fast free quote on annual termite inspections in Coomera, call (07) 3324 0111. Or send your online enquiry. One of our friendly pest technicians will get straight back to you.