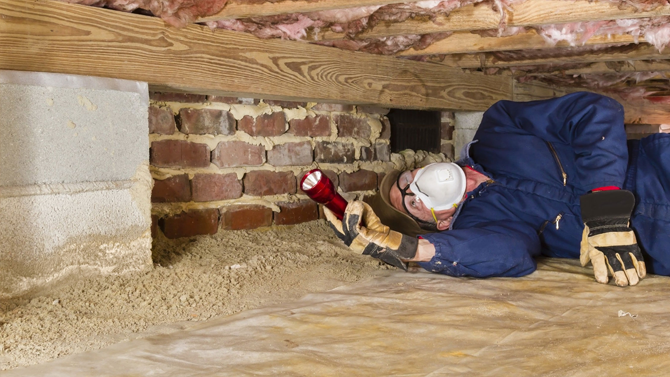 Certified Termite Inspections for Holland Park
Located only 15 minutes away from the Brisbane CBD, Holland Park is a quiet and leafy suburb. With beautiful greenery, affordable housing and proximity to the city – it's no wonder families and professionals call Holland Park home.
Unfortunately, due to the tropical climate of Queensland, termites also call Holland Park home. To protect your building from infestations, you should have termite inspections in Holland Park at least once per year.
What's That Clicking Sound?
Despite your best efforts to stop infestations… these pests can find a way inside. That's because termites find comfort in the places we'd rather avoid. Like those dark, moisture-rich dwellings including mud tunnels, drainage pipes, cracks and crevices.
Once they're inside, they set up colonies and survive off eating timber structures like subfloors, roof voids, support beams and more.
If your home is infested, you could be facing a devastating repair bill. And if you're running a business? Your very livelihood could be at stake.
Prevention is the Key
Stopping an infestation is always better than removing one that is already there. We can arrange a team of licensed professionals to survey those hard-to-reach places in your premise.
During the inspection, we assess common entry points like the subfloor, drainage pipes, roof void, fences, landscape, cracks and crevices in the interior. Our team use a range of specialised equipment to locate termites without disturbing their presence. These include moisture peters, thermal imaging cameras, termite detectors and extendable doggers.
If we do find live termites in the building, do not disturb them. This will cause the termites to disperse and relocate in the building.
After the inspection, you will receive a comprehensive termite inspection report, which tells you the following information:
Areas that have been inspected
Areas at risk of/already infested/have already been infested
Location of possible entry points
What areas of the property are damaged
How the termites are surviving
Range of termite treatment solutions
Pre-Purchase Inspection
Are you planning on buying a new property? Save yourself from heartache with a pre-purchase inspection.
We can arrange a team of licensed professionals to inspect the property for you. We can access many areas inside the premise including the subfloor, interior and exterior, landscaping, fencing and roof voids.
After the inspection, you receive a full report that outlines the details of the findings. If we do find termites in your potential new home, we offer a range of treatments to resolve the problem.
Why Choose All Bugs for a Termite Inspection
Why Choose All Bugs for a Termite Inspection
With over 30 years of helping residents in Holland Park, you can be confident in the skills and local knowledge of our team. We are fully licensed and insured to safely provide domestic and commercial termite inspections for Holland Park.
We inspect those hard-to-reach places that other services may ignore
We charge a fixed rate based on the property – no hidden fees or charges
All technicians are part of the All Bugs family – no sub-contractors
Our termite treatments are safe for pets, children and families*
You get regular follow-up appointments to ensure the treatment is working
Call (07) 3324 0111 to book a termite inspection in Holland Park for your home or business. Send your online enquiry to get free advice from a certified pest controller.
*For your peace of mind, we recommend children with allergies, crawling toddlers and pregnant mothers in their first trimester avoid exposure to pesticides.