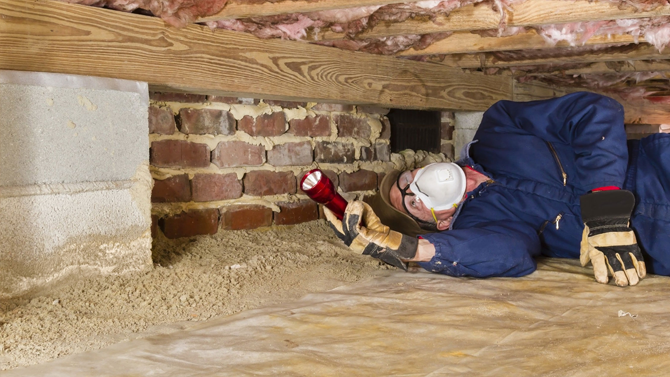 All Bugs is licensed and insured to provide annual termite inspections in Hope Island for homes and businesses of any size.
Our local termite technicians use their knowledge and expertise to detect early and get rid of subterranean, drywood and dampwood termites. By doing so, you avoid costly building repairs and the emotional stress of dealing with termites.
All termite treatments are backed by an official All Bugs warranty. So you can rest easy knowing your property is protected from termites for the long term.
Termite Inspection Procedure
All Bugs is committed to helping people just like you buy and sell property with confidence.
By using our local knowledge and the latest thermal image technology, a licensed inspector will assess the property for major structural damage, and take note of any signs of past or current timber pest activity.
Within 24-hours of the inspection taking place, you will receive a detailed inspection report complete with high-quality photos. This document lays out everything you need to know in clear, easy to understand terms. So you will have all the information you need to make the right purchase decision.
If the team does find evidence of live pests, they will recommend a suitable treatment plan and give you an obligation-free quote.
To arrange a pre-purchased inspection in Hope Island, get in touch with us.
Why Choose All Bugs?
On a suitable day and time, the All Bugs team will show up on time to inspect your home or business.
By using state-of-the-art equipment like thermal image cameras, every nook and cranny is explored – without having to drill holes into the wall – so you're guaranteed a detailed, accurate report.
For your convenience most inspections only take a few hours to carry out based on the size of your property. Rest assured the team will treat your property and tenants with respect and leave the place looking just the way it was found.
Below are the most common areas the team will explore to search for termites:
Common living areas
Roof void
Sub floor
Outside areas – garden beds, fencing, retaining walls, surrounding trees, and entertainment areas.
Garages
Basements
Wet areas – bathroom, laundry, kitchen and drainage pipes.
Timber products – flooring, handrails, window and door frames.
Within 24-hours of the inspection taking place you will get a termite inspection report sent via email. Your technician will show you high-quality photos and guide you through the results in clear, easy to follow terms.
If termites are found, the team will propose a tailored, eco-friendly, and effective treatment plan to suit your needs and budget.
Book your annual termite inspection in Hope Island today. Call (07) 3324 0111 or fill out the online form.
Why Choose All Bugs?
Fully licensed and insured. Our termite technicians are fully certified, insured, and experienced in providing termite inspections and treatment for the domestic and commercial sector. Plus, the team goes through regular training to keep up with the latest industry practices, technology and regulations.
Proudly serving Hope Island. Wherever you're based in Hope Island, you can expect a consistently high level of quality assurance, customer service and satisfactory results. By choosing a local pest control company, you get friendly advice and support from people who know the area well, and use their local knowledge to provide the best outcome.
Honest fixed pricing. The price you see on paper is exactly what you pay. No hidden fees or costs, no surprises. We also accept credit and debit cards so it's easy to pay straight away.
Satisfaction really is guaranteed. You deserve to have peace of mind knowing your home or business is free of termites for good. That's why All Bugs provides ongoing support with an ironclad satisfaction guarantee. If you're not satisfied with the results of the termite treatment, let us know. We'll be glad to rectify the issue at no extra cost to you.
Book Your Annual Termite Inspection
Don't wait until you see the first signs of infestation to take action. Respond early with a comprehensive termite inspection from All Bugs.
Book your annual termite inspection in Hope Island today. It's easy! Just call (07) 3324 0111 or fill out the online form. One of our termite technicians will be happy to book a suitable day and time for you.