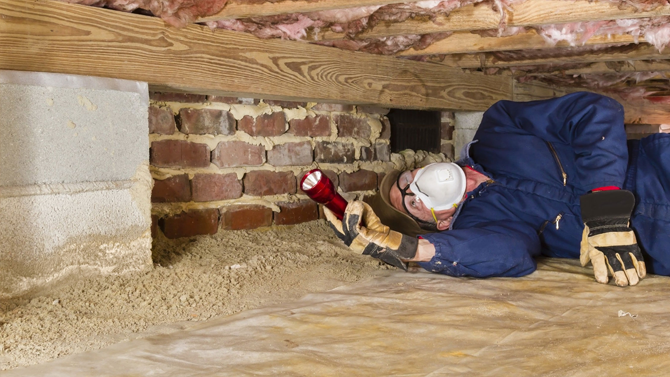 Annual Termite Inspections for Ipswich
Safeguard Your Home or Business with an Annual Termite Inspection
Did you know damage caused by termites' costs the Australian economy more than fire, flood and storm damage – combined? With billions of dollars spent on property repairs each year, its clear more Australians must take preventative measures to avoid the risk of a termite infestation. If you want to avoid major structural damage and costly repairs, let All Bugs offer peace of mind with annual termite inspections in Ipswich.
All Bugs is fully licensed, insured, and equipped to carry out termite inspections for Residential, Commercial and Industrial properties. We offer Standard Termite Inspections (with thermal imaging) and Pre-Purchase Inspections.
Our team is available Monday to Saturday (7am – 7pm) for all appointments.
Annual Termite Inspection Service
The purpose of a termite inspection is to give your home or business a health check. Just like people, properties are prone to getting "sick," and a regular check-up can help stop a minor threat before it gets worse.
On a convenient day and time, All Bugs will come to your property and inspect the inside and outs of the premise. During your annual termite inspection in Ipswich, the team will thoroughly check these areas:
Roof void
Subfloor
Around the property foundation
Outdoor areas (i.e. trees, garden beds and fence line)
Moisture-rich places (i.e. bathroom, laundry and kitchen)
Door and window frames
Interior and exterior walls
Structural timber products
By using the latest inspection tools and thermal image cameras, the process will not make the termites panic and relocate. Most inspections take at least 2-3 hours, so you know we take our time and leave no stone left untouched.
Call All Bugs on 3324 0111 to book an annual termite inspection in Ipswich.
Termite Inspection Report
Within 24 hours of the inspection, you get an inspection report and photos via email. This copy is yours to keep. It can be used by All Bugs as a reference for future inspections. The report will explain the following to you:
Species of termite
Possible entry points
Damage to timber products
Leaking pipes or plumbing facilities
Location of nests
Extent of the infestation
Your technician will be happy discuss the results of the report with you over the phone. If we do find termites, we will recommend a number of affordable treatment options to stop the infestation for good.
To protect your home or business from further damage, all termite treatments from All Bugs come with a warranty for peace of mind.
Why Choose All Bugs for Annual Termite Inspections
Domestic and commercial inspections for Ipswich
Pre-Purchase inspections
Detailed inspection report within 24 hours
Fully licensed and insured
Flexible payment options
Compliant with Australian Standard (AS3660.1 – 2000 Termite Management)
Warranty for all termite treatments
Contact Us
If you want to protect your property, let All Bugs help make your work or living space a termite-free zone.
To book an annual termite inspection in Ipswich, give All Bugs a call on 3324 0111 or complete the online enquiry form.