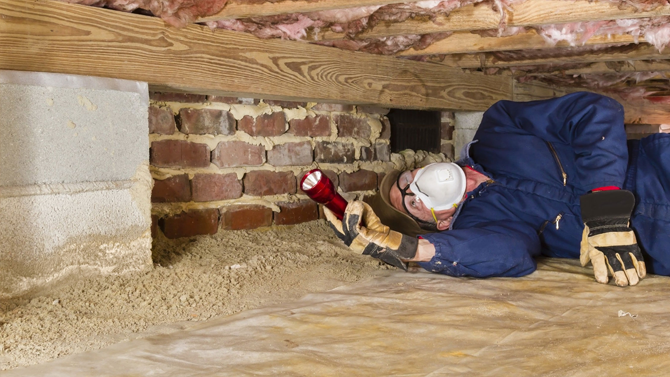 Pre-Purchased Inspections for Ipswich
A Simple Preventative Measure – A Lot of Peace of Mind
In Ipswich, termites are a common issue for homeowners and businesses. These pests can cause extensive damage to your property and pose a major health risk to your pets, children and family. Unfortunately, they're also very discreet, so you may not notice their presence until it's too late.
Whether you're buying or selling property, a pre-purchased inspection could save you thousands in property repairs and emotional stress.
The Inspection Process
All Bugs can inspect your home or business within a matter of days of the appointment being made – and sometimes on the same day.
Using the latest termite tracking technology and moisture meters, we inspect the property inside and out – even those hard-to-reach spots – to look for termite activity and evidence of timber damage.
The most common areas we inspect include the:
Subfloor areas
Accessible ceiling cavities
Perimeter of the property
Surrounding trees, fences and retaining walls
Foundation and concrete slab
Interior living spaces
Depending on the size and layout of the property, most pre-purchased inspections in Ipswich take 2 hours to complete.
Comprehensive Inspection Report
All Bugs will send you a written inspection report within 24 hours of the inspection taking place. This valuable document tells you the following details:
Evidence of timber damage caused by termites
Evidence of current pest activity and nest location
Previous infestations and risk of future infestation
Recommended treatment options with an obligation-free quote
All of this information is laid out for you in simple and easy to understand terms. Your pest controller will advise you on the most effective treatment options and give you an obligation-free quote
In Ipswich, every pre-purchased inspection is carried out in compliance with AS4349.3 – 2010 Inspection of Buildings – Timber Pest Inspections.
Trusted Professionals
Rest assured, your property is inspected by licensed and insured pest controllers with years of experience.
With up-to-date knowledge of the local area and behaviour of different termite species, they carry out the inspection without disturbing their presence and causing them to relocate.
We encourage you to be present during the inspection. Our friendly and approachable team will be happy to answer your questions and guide you through the process from start to finish.
Why Choose All Bugs
Residential and commercial services
Inspection report delivery within 24 hours
Fully licensed and insured
Will not disturb termite activity
Compliant with AS4349.3 – 2010 Inspection of Buildings
Proudly serving Ipswich
Enjoy Greater Buyer Confidence
Buying a new home or business is a very stressful experience. With a pre-purchased inspection from All Bugs, you can relax knowing your investment is safe from the threat of timber pests.
Call 3324 0111 or send your enquiry to book an appointment in Ipswich.