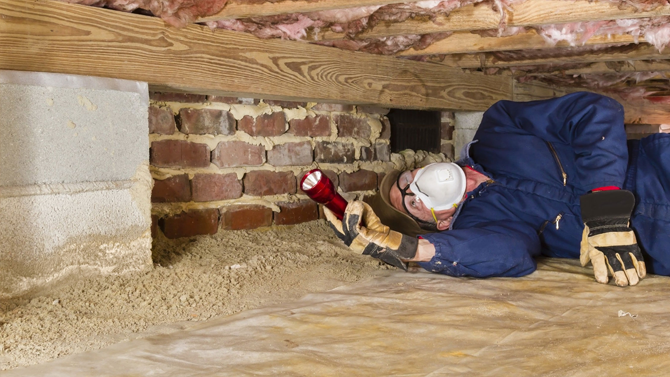 Termite Inspections in Ipswich
A Little Bit of Forward Thinking – A Lot of Peace of Mind
A termite inspection is an effective way to detect and manage infestations early. According to the CSIRO, an annual termite inspection by a licensed technician is recommended for most homes and businesses in Australia.
All Bugs is fully licensed and insured to carry out termite inspections across Ipswich for Residential, Commercial and Industrial purposes. Our termite inspection service will identify termite activity and provide an affordable treatment plan designed to remove timber pests inside and outside the premise.
Most appointments take between 2-3 hours and you get a detailed inspection report within 24-hours.
The Process – What to Expect From Your Inspection
All Bugs take a meticulous approach to termite inspections in Ipsich. By using local knowledge and the latest inspection tools, we can identify the termite species, nest and entry points with complete accuracy.
The team follows a simple 4 step process to identify and treat termites:
1.Termite Inspection
On a convenient day and time, our fully licensed team will come to your home or business to carry out the inspection. The team will take the time to answer your questions and guide you through the process from start to finish.
The most common areas where we find termites are the:
Subfloor
Roof void
Moisture-rich areas (i.e. kitchen, bathroom)
Fencing
Gardening
Retaining walls
Around the foundation.
Rest assured, no area is left untouched so you can be confident the inspection is done right.
2.Termite Inspection Reports
After your termite inspection in Ipswich, the team will email a report to you within 24 hours of the inspection taking place. The report is easy follow and compliant with Australian Standard 3660.2-2000. The team will take you through the report and reveal the following information:
Signs of past, current or potential termite infestation
Timber damaged caused by drywood termites
Evidence of past or current termite treatments on the premise
Photos of live timber pests, nests or their eggs
Recommended treatment options at an affordable cost
3.Custom Termite Treatment
Are termites wreaking havoc on your home or business? Fight back with effective and long-lasting baiting stations, traps, chemical barriers and reticulation systems. Our flexible termite treatments are designed to kill live termites including their nest and eggs.
Each product is Australian-certified, discreet and non-toxic. They are safe to use near pets, children and pregnant women. Plus, they are designed to generate results quickly and provide long-term relief to prevent future infestations.
4.Follow-Up Appointments
During the course of treatment, your pest control expert will carry out routine appointments to monitor and modify the treatment where needed. With a professional leading the treatment program, you can be confident the treatment is working and the program will be a complete success.
Why Choose All Bugs for Termite Inspections
Whether you are buying or selling a home, or just want to keep your property safe, All Bugs will ease your concerns and offer an effective treatment plan to suit your budget, property and lifestyle needs.
The next time you need a termite inspection in Ipswich, here is why you should choose All Bugs:
Pre-purchase inspections, strata inspections and general building inspections
Inspection report sent via email within 24 hours
Fully licensed and insured technicians
Affordable termite treatment and monitoring
Covered by All Bugs service guarantee
Protect Your Home or Business from Termites
Don't wait for a termite infestation to cost you a fortune in repairs and emotional stress. Get the answers you need with a termite inspection from All Bugs in Ipswich.
For a detailed termite inspection report, call 3324 0111 or complete the online form.