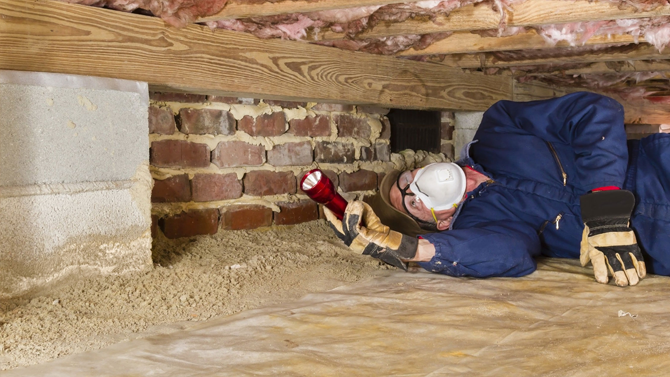 Protect Your Most Valuable Investment with an Annual Termite Inspection in Newmarket
According to the APCA (Australian Pest Controllers Association), Newmarket and the City of Brisbane is at a 'High Risk' of a termite attack. To avoid emotional stress and financial loss, you need to have an annual termite inspection in Newmarket done by a licensed pest controller.
All Bugs can detect termite activity in your home or business. And come up with a treatment plan to save your property from long-term damage. No matter where you are in Newmarket, you can expect us to arrive on-time and get the job done without delay or disruption.
Each annual termite inspection is carried out by licensed professionals who comply with Australian Standard AS3660.
Latest Non-Invasive Inspection Tools
All Bugs is fully-equipped with the latest termite inspection tools. Our expert team uses a combination of moisture meters and thermal image cameras to identify live termite activity.
The moisture meter is used to detect damp spots which can indicate the presence of subterranean termites. Meanwhile, the thermal image camera is used to detect differences in heat, where high levels of heat indicate the presence of a termite activity. Finally, we use the Termatrac Ti3 All Sensor to confirm the presence of live termites.
All of this is done without disturbing the walls or the risk of scaring off the termites.
Claim your free, no-obligation quote for annual termite inspections in Newmarket. Call (07) 3324 011 or send your online enquiry today.
Zero-Fuss
Having your property inspected by the Newmarket All Bugs team is easy and stress-free.
That's because we treat your property just like our own. Every effort is made to keep noise to a minimum. And we only access parts of the building we have been given permission. After the inspection we leave the place looking just the way we found it.
Of course, the team will arrive on time and leave you in peace during the inspection. If you wish to tag along and ask any questions of your own – you are most welcome.
Fast Inspection Report
Everything you need to know is laid out in your inspection report. The document itself is easy to read and comes with high quality photos to show you exactly what's going on.
In most cases, you will get the inspection report via email within 24-hours of the annual termite inspection in Newmarket taking place.
Below is what you can expect to find in your report:
Evidence of termite activity
Evidence of damaged or rotting timber products
Signs of previous termite treatments (i.e. physical or chemical barriers)
Request to further investigate hard-to-reach places
Recommended eco-friendly treatment plans
Official Service Guarantee for Peace of Mind
Few things are more important than your total peace of mind.
With an All Bugs service guarantee you can relax knowing your property in Newmarket is safe. Not only will you enjoy long-term relief from termites – but also preserve the value of your home or business.
If for any reason you're not fully satisfied, All Bugs will work hard to resolve any issue within the terms of your guarantee.
Get a FREE Price Estimate
Contact All Bugs today for a FREE, no-obligation quote.
For nearly 3 decades All Bugs has been at the forefront of effective termite management. As highly trained experts we play a key role in the early detection and treatment of termites in Newmarket.
Request a FREE quote for an annual termite inspection in Newmarket today. Simply call (07) 3324 0111 or send your online enquiry for a quick response. The friendly All Bugs team will be happy to book an appointment on a convenient day and time for you.