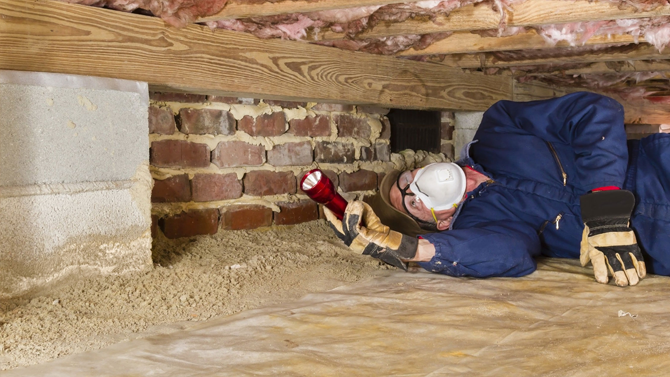 Pre-Purchase Inspections Yarrabilba
Planning to buy a new house or commercial building? Let All Bugs help you make the right choice with a pre-purchase inspection in Yarrabilba.
Our licensed pest controllers know exactly what to look for. By using expert knowledge and advanced inspection tools, we do a thorough assessment of the building. And we tell you what the results are in clear, easy to follow terms.
After the inspection you receive specific maintenance recommendations based on the results.
All pre-purchase inspections in Yarrabilba are carried out in compliance with AS 4349.1-2007 Australian Standards.
What to Expect From Your Pre-Purchase Inspection
With over 30 years of experience All Bugs has the labour and technology to make pre-purchased inspections easy.
Your inspection team will arrive on a day and time chosen by you. They will thoroughly inspect both inside and outside the building. During this time they will take note of defects, pest activity, and damage to the structural integrity of the building.
Some of the most common areas that we inspect are:
Ceilings, walls and floors
Subfloor and foundation
Exterior of the building
Plumbing facilities
Ventilation and drainage
Gardens, fences and retaining walls
Doors and windows
Wet areas (i.e. kitchen, bathroom and laundry)
In Yarrabilba, most pre-purchase inspections take approximately 1-2 hours to complete. Inspection times may vary based on the size and complexity of the building.
Valuable Insight and Advice
Your pre-purchase inspection report will tell you everything you need to know to make an informed choice.
In most cases you will receive the inspection report via email within 24-hours of the inspection taking place. Inside the document are high-quality photos and a checklist of the following details:
Evidence of property damage and the extent of the damage
Contributing factors that may have led to the damage
Signs of timber pests or other pests
Species of the pest
Possible entry points and location of nest
Pest treatment recommendations
Fixed custom quote for treatment
With this information you will know exactly what is going on with the property. By knowing about defects and pests early, you can avoid emotional and financial stress due to the cost of treatment.
At a suitable time, All Bugs can contact you by telephone to discuss the results of the inspection report.
Book Your Pre-Purchase Inspection
Know what you're buying into. Before you put down your hard-earned money, have your property inspected by a professional you can trust.
Book your appointment for a pre-purchase inspection in Yarrabilba today. Simply call 3324 0111 or complete the online form. We look forward to hearing from you.