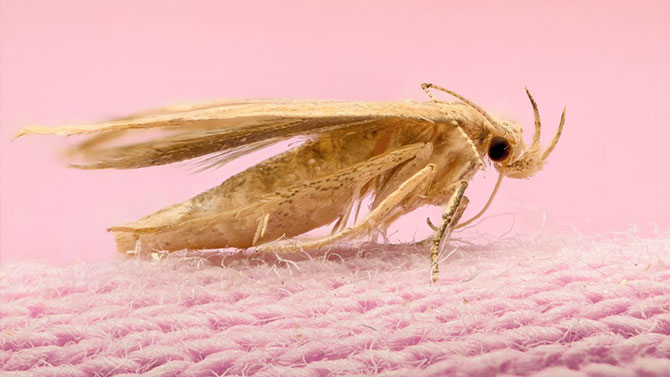 Information about clothes moths
In nature, clothes moth and carpet beetle species perform a useful role in eating refuse matter such as feathers, hides, All textile pests have four stages to their life cycle: fur, beaks and horn, not eaten by other animals or insects. Egg e Larva e Pupa e Adult (moth or beetle) These insects become pests only when they enter homes or buildings, and feed on textile products derived from only the larval stages of these insects feed on animal animal fibres such as wool, mohair and fur, where they fibres. The duration of each stage varies appreciably may cause serious damage. Normally, long-lasting wool between species, and also depends on the feeding textiles such as carpets, blankets, upholstery fabrics and conditions, temperature and humidity. Constant wool insulation have insect resist treatments applied temperatures (20-30 °C) and high humidities shorten the during manufacture. However, some goods escape life cycle and thus enhance the multiplication rate of the treatment, or are undertreated, and are thus vulnerable to insects. Further details of the stages of the life cycle of the attack by these insects.
Clothes Moth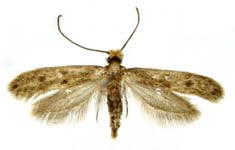 Characteristics:
Cloths moths are associated with the destruction of organic materials such as furs, wool, felt, rugs, carpets, blankets, curtains and furniture fabrics. Adults moths are only small in size and don't live for long. It is the insect in its immature larvae stage that cause destruction to materials. Adults are about 10 mm long with narrow wings and are yellow in appearance. The larvae are grub like with a white body and dark head. The clothes moth require 14-28 days to hatch. Coastal areas of the continent with more humid conditions are favourable for their development
Habits:
Cloths moths prefer dark and like undisturbed areas, they produce fine sand like droppings. Adults are easily disturbed and can be seen flying out of wardrobes.
Method of Treatment for Ants:
For Carpet Beetle and Cloths Moths an application of residual insecticide and dust to carpet surfaces, rugs and shelving in cupboards and wardrobes.
At All Bugs our licensed technicians can assist you with a flexible, tailored solution to suit your individual needs we can prevent all pests from becoming a problem in your home or workplace. Please contact us to help you maintain an environment free of pests. Please call 3324 0111 to make an appointment.