Qualified pest controllers have in-depth knowledge of termite behaviour and their characteristics, real-world experience with termite management and control in various types of buildings, and access to the latest termite detection technology.
Together, these resources make it easy for pest controllers to quickly track down termites and their nests. As a result, the treatment is more effective, longer lasting, and economically less costly for you – the customer.
How it works
Here is a step-by-step breakdown of how a pest controller checks for termites.
1. Visual inspection
On a suitable day and time, a qualified pest controller will come to your home or business. They will perform a thorough inspection of both inside and outside the property. More than one technician may be present depending on the size of the property.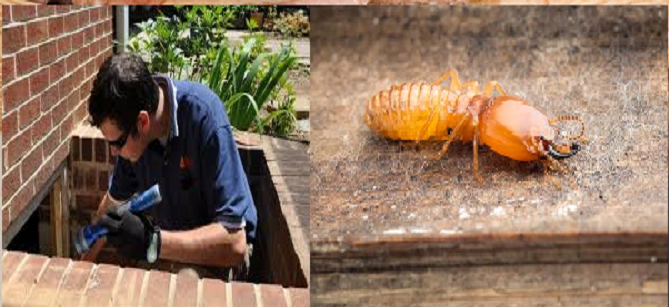 An Internal and External visual inspection of the Building includes:
Main living areas – all bedrooms, living areas, hallways, kitchen, pantry, and more
Timber products – timber flooring, windowsills, door frames, and stair handrails
Wet areas – bathroom, laundry, leaking pipes, window wall air conditioners, and beneath all basins.
Underneath the property – joists, bearers, timber piers, and timber in storage.
Outside the property – gutters / eaves / downpipes and flashing /external walls / air conditioning units / water tanks / decks and verandahs and foundations.
On the property – carports / pergolas / retaining walls / fences / trees / tree stumps and garden beds.
Essentially what we are looking for:
identify the presence or absence of termites and/or other timber pests or diseases (eg fungal or bacterial rot)
identify whether timber damage is due to termite attack or due to other pests or diseases
if damage is termite related, identify the genus and species (if possible) involved
assess the extent of and areas of activity, possible entry points and nests
determine the most suitable course(s) of action, including treatment(s)
assess possible and likely limitations to recommended treatment(s)
identify risk factors that may influence treatment limitations
recommend further trade involvement (eg building remediation, carpentry) before or after treatment(s)
recommend on the need for and frequency of future inspections and/or follow-up treatments; and
provide clear guidelines for on-going maintenance of treated properties and treated areas
At All Bugs all our work is in line with the Australian Standards AS 4349.3-2010.
Note: Termite damage that looks old may not necessarily be old but rather to hot and dry to be alive with termite activity, until it rains. All termite damage attracts more termites.
2. Termite Detection Technology
Under the Australian Standard AS 3660.1 – 2014 non-invasive measures are used first to search for termite activity.
This involves the use of termite detection technology such as termite motion sensors and thermal image cameras. These devices make it easy for technicians to search for termites without the need to drill holes into the wall.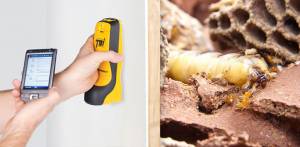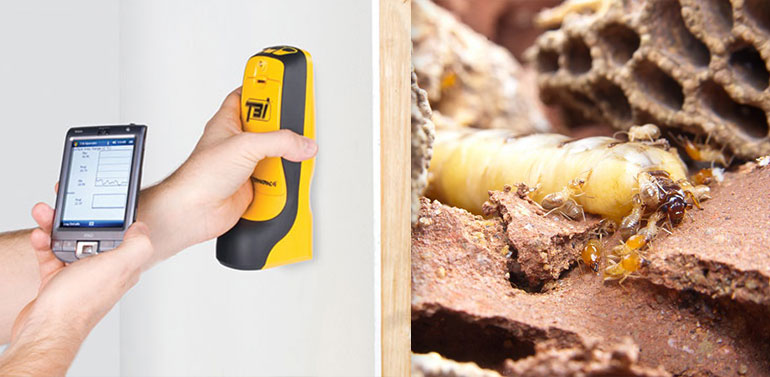 Thermal imaging cameras use infrared technology to measure hot and cold spots. Large groups of termites generate heat. Thermal image cameras detect high levels of heat, which is often a major sign of termite activity. It also has the ability to locate termite nests and larvae.
If termites cannot be found, your technician will ask for permission to drill a 6mm hole into a suitable wall section. They will then insert a borescope into the wall cavity and use the objective lens to perform a visual inspection.
3. Average Length of Inspection
Most termite inspections can be carried out within 2 – 3 hours.
However, this depends on the size, structure type and condition of the property. Larger buildings will naturally take longer to inspect.
4. After the Inspection
Once the inspection is over, your pest controller will prepare a detailed inspection report and send it to you via email within 24 hours. They will also explain the report findings to you in clear, easy to understand language.
A detailed termite Inspection report provides you with high quality photographs to show you the exact location of termites.
If termites are found, your pest controller will include treatment options and a detailed fixed quote. There is no obligation to accept this offer. If you wish to proceed, the team will arrange a convenient day and time to start treatment.
Book a termite Inspection
To request a free, no obligation quote from All Bugs, call (07) 3324 0111 or fill out the online form. One of our friendly staff will be in touch to discuss your job requirements and give you an honest price estimate.