An annual termite inspection carried out by a qualified pest expert can assist in the early detection and treatment of termites. This can help you avoid considerable damage to your property.
For over 40 years, All Bugs has helped residents across Brisbane keep their homes and businesses safe from the threat of termites and other timber pests, including borers and wood decay fungi.
To achieve the best possible outcomes, we rely on an effective combination of local knowledge and expertise, use of the latest termite detection technology, and ongoing treatment support.
As a result, we guarantee to track down the exact source of the problem, to eliminate the chances of further attack. In the long run, you will save money on future treatments and have total peace of mind knowing that your property is safe.
Benefits of annual termite inspections
Early detection of termites and other timber pests to avoid serious property damage
Detailed inspection reports are usually sent within 24 hours and tell you where the infestation is, how widespread the problem is, and the best course of action to take.
Inspections are carried out by fully qualified, insured, and experienced pest experts
If you plan on buying or selling property, an inspection report will give interested buyers the confidence they need to proceed with the sale.
Maintain and enhance the value of your investment property
Termite inspections – what to expect
When you first contact All Bugs, we will take the time to understand your pest control needs and give you a fixed price estimate. We then arrange your appointment on a day and time that is convenient for you.
On the day of the inspection, the team will carry out a thorough inspection of both inside and outside the property. While the areas we search will depend on the property itself, the most common areas we search are: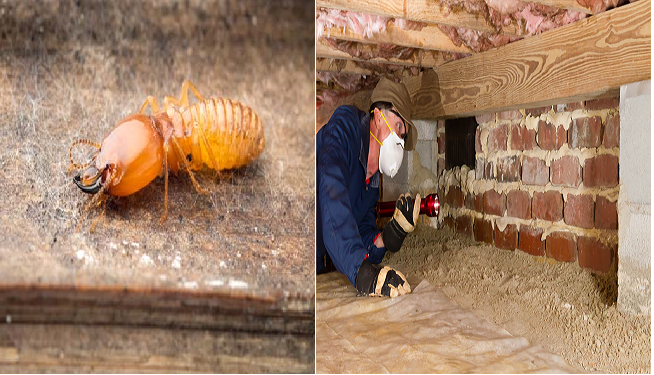 Main living areas: Bedrooms, guest rooms, lounge rooms, hallways, entertainment areas, and kitchens (including timber products like window sills, door frames, and staircase hand rails).
Under the property: Timber flooring, bearers, joists, timber piers, and any timber products in storage.
Roofing: Gutters, vents, flashings, skylights, downpipes, eaves, hanging beams, and rafters.
Wet areas: Bathrooms, laundry, leaking drainage pipes, window wall air conditioners, and underneath kitchen and bathroom basins.
Outside: Outdoor living areas, garden beds, fences, retaining walls, nearby trees and tree stumps, and around the foundation of the property.
If there are any areas we could access on the first inspection, you will be notified, and we will arrange another day to carry out a more thorough inspection. For the most part though, we can inspect most accessible areas on the first visit.
Once the inspection is complete, we will prepare a detailed inspection and send it to you, typically within 24 hours of the inspection taking place. One of our pest experts will also explain the findings of the report to you in clear, easy to understand language.
Inside the report you will learn about:
Signs of past, current, and potential future termite infestations
Evidence of damage to timber products (i.e. rot, mould, and loss of structural integrity).
Possible entry points
Location of termite nests and areas of high termite activity
Recommendations on how to eliminate the current infestation and protect the property from future infestations.
Detailed fixed quote for the total cost of treatment – there is no obligation to accept this offer.
From there, the team will start the treatment and keep you informed on progress until the infestation has been safely removed.
Using the latest technology
To ensure no stone is left unturned, All Bugs use the latest termite detection technology. These devices are used to detect termites in hard-to-reach places without the need to penetrate the wall. As a result, this greatly reduces the risk of disturbing the termites and causing them to relocate.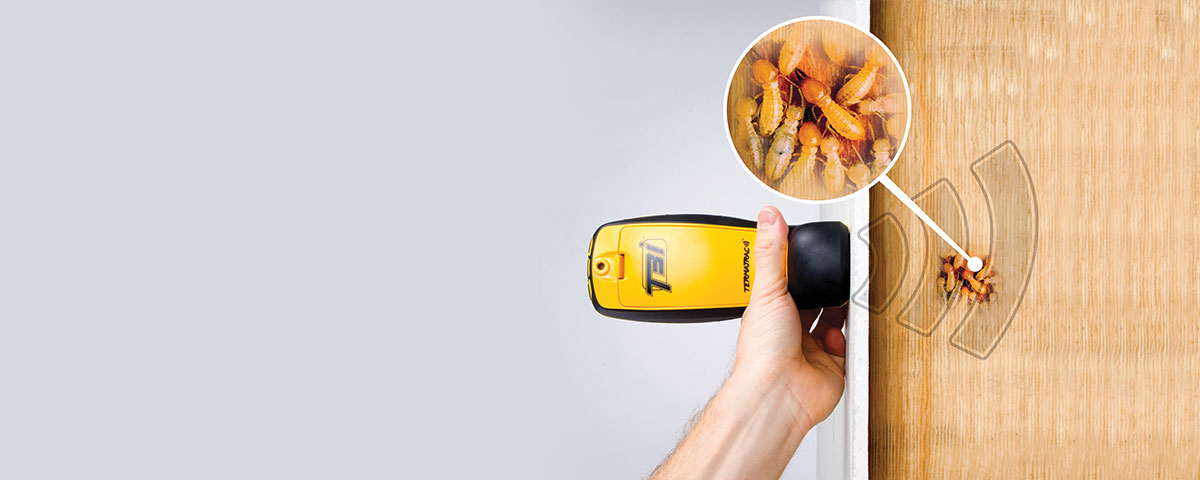 The most common devices we use to detect termites are:
Termatrac Motion Sensor: This device uses patented radar technology to detect termite activity through the wall without the need to drill holes. All information collected by the Termatrac Sensor is 100 percent accurate and the results are easy to read. moisture, and different levels of temperature (termites generate heat, so a high temperature reading means there is a high chance of termite activity). All information collected by the Termatrac Sensor is 100 percent accurate and the results are easy to comprehend.
Thermal image camera: The purpose of a thermal image camera is to detect both moisture and different levels of heat. Since termites generate heat, a high temperature reading will mean there is a strong chance of termite activity.
Borescope camera: Designed to inspect within a wall cavity, a borescope camera is a useful way to identify leaking pipes and signs of termite activity in hard-to-reach places.
Meeting the highest industry standards
Each termite inspection is designed to meet Australian Standard (AS 3660.1).
This means each step of the process – from the inspection and report writing through to treatment – is carried out in a manner that is consistent with all relevant industry and Work Health and Safety standards.
This way, you can relax knowing the inspection will be carried out by licensed professionals, the report will be accurate, and the treatment will be safe, effective, and provide minimal fuss to your tenants – be it family, children, pets, staff, customers, or the general public.
At All Bugs, we stay up to date with the latest Australian Standards for Termite Management. Not just to keep up with industry standards, but to give our valuable customers the best possible service.
Book a termite inspection today
To request a free, no commitment quote for a termite inspection, call (07) 3324 0111 or fill out the online form. Your friendly pest expert will be happy to listen to your concerns and give you an honest price estimate.