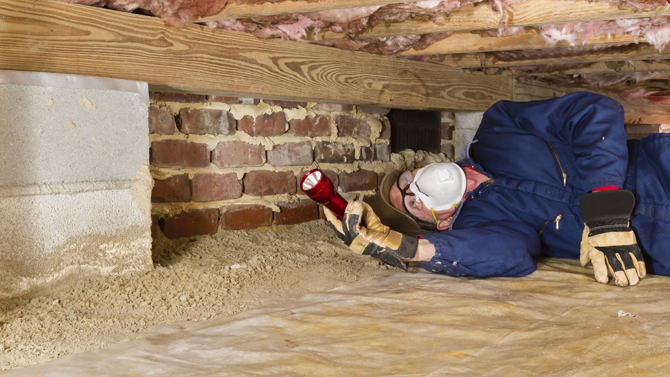 Annual Termite Inspection Beaudesert
Keep Your Property Safe All Year Round With an Annual Termite Inspection in Beaudesert
100% Safe, Discreet and Non-Invasive Termite Inspections
Termites are a destructive pest and they can cause thousands of dollars in property damage without you even knowing it. Early detection is the most effective way to avoid paying a hefty repair bill and dealing with the emotional stress.
For over 30 years All Bugs has been proudly serving Beaudesert with annual termite inspections. Whether your home or business needs inspecting, All Bugs can inspect any kind of property and send you a report via email within 24 hours.
All Bugs uses local knowledge and the latest termite inspection tools to inspect both inside and outside the property. In most cases it only takes about 2 hours to inspect the building. Also, there's no risk of damage to the property or causing the termites to panic and relocate.
From there, All Bugs will recommend the most effective form of treatment to get rid of the existing colony and defensive measures to provide long-term relief.
Fast on-time arrival
Fully licensed and insured
Over 30 years of experience
Inspection report and photographs sent via email within 24 hours
Minimal fuss to your home life and business
Flexible payment options
Call  (07) 3324 0111 to get a FREE quote on termite inspections in Beaudesert today.
Termite Inspections Checklist
On a convenient day the All Bugs team will show up on time at your home or business. They will ask you questions about the infestation and if you have noticed any signs of termite activity.
From there the team will inspect the property to look for the following items:
Signs of damaged timber and general structural damage
Evidence of termite activity (i.e. shell casings, mud tunnels and live termites)
Any signs of previous termite bait or chemical termite barriers
Inaccessible areas that require further inspection
To ensure the inspection doesn't disturb the termites, All Bugs use the latest termite detection tools. These include thermal image cameras, optical borescopes, electronic odour detectors and moisture meters. All of these are used by highly trained experts with years of experience.
Termite Treatment
Based on the results of the inspection, All Bugs will recommend a custom treatment plan that suits you. All of our treatments are only toxic to termites and cause no harm to humans, pets or other wildlife.
Below are the most common forms of treatment we offer:
Termite Baiting Stations – Termite bait is setup in targeted areas inside and around the property. Worker termites consume the bait and return to the nest where the toxin spreads to other termites and eventually the entire colony perishes. Throughout the course of treatment the team will return to refill the supply to ensure you get long-term relief from termites.
Chemical Termite Barrier – A protective barrier released around the property in the form of a chemical spray. It's designed to stop termites from outside feeding on the timber and getting into the property. When applied by a licensed professional, it can provide up to 5 years of protection against termites.
Reticulation System – A more advanced yet expensive form of treatment designed to keep away termites from entering the property. A network of pipes are installed beneath the ground and saturate the soil with termite treating chemicals when pressure is detected. If installed correctly and maintained it can last for up to 50 years or longer.
Get a FREE Quote
Don't wait for destructive termites to destroy your home or livelihood. Whether you are overdue for an inspection or you suspect there are termites on the loose, All Bugs can offer you peace of mind.
To book an annual termite inspection in Beaudesert, call All Bugs on (07) 3324 0111. Our friendly team will book a suitable time and day for your inspection.