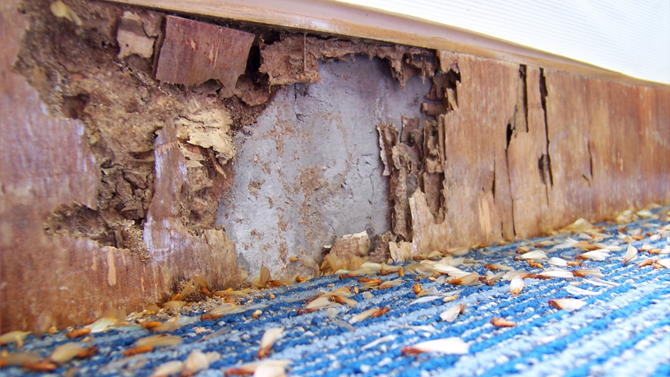 What is the purpose of Termite Inspection?
The purpose of a Timber Pest Inspection or Termite Inspection on a property is to assess the following:
Evidence of timber pests.
Existence of visually observable damage caused by timber pests.
Susceptibility of building to timber pests.
Why a Termite inspection is very important?
The earliest detection by our expert will save you the heart ache of thousands of dollars and ensure the safety of your home as one 1 in 3 homes are destroyed by termite attacks. Take time to investigate the size and nature of the problem as well as all the available options.
Regular termite inspections will not prevent termite attack, but may help in the detection of termite activity. Early detection allows remedial treatment to be commenced sooner and reduce further timber damage.
If termite damage is found in the home, don't panic. Do not disturb the termites by using household sprays or removing infested wood. Disturbances cause termites to abandon the area and are likely to move elsewhere in the building which makes them difficult to find and treat, thus causing further damage in other areas.
Following our inspection of your home you will be issued a termite Inspection Report. This explains the size and style of the building structure, picks up all conducive areas, any plumbing leaks, is your home being invaded by termites, what type of termite is attacking. Where they are getting in, what are they attacking, what damage is found is it wide spread, how and why they are surviving and how to we can get them out.
At All Bugs, we provide services of termite inspection in Brisbane to our customers in the residential, commercial and industrial sectors. Our termite inspections are conducted by trained professionals who know just where to look for termites so that they can protect you and your family. We at All Bugs understand that the safety of the home is important to you therefore our professionals in termite inspection in Brisbane go all out to ensure just that. When it comes to the termite inspection cost, you can be rest assured that our rates are competitive and can also be personalised according to the budget of the customer. With over 40 years of experience in termite inspection and control, we have won over many happy customers. Our mission is to make sure that we protect homes through our termite inspections in Brisbane so as to provide everyone with an environment that is healthy.
At All Bugs, the most trusted company for termite inspection in Brisbane, we carry out the most effective of termite inspection programs so that we don't leave a single bug or termite unturned. With a guaranteed rate of success, our termite inspection and termite management programs are a huge success and have earned us the reputation of being a company that is second to none in the termite inspection market. Call us today and protect your homes through our termite inspections!